What Should I Store in My Safe?
Planning for the purchase of a security safe takes some consideration, and it's better to take the time and think about what your needs are, rather than make an impulse purchase that may not suit your needs in the future. Here are some of the factors you should consider when thinking about this big purchase.
Box Safe vs. Wall Safe?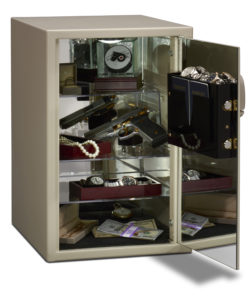 The first decision to make is whether what kind of safe fits your lifestyle. It can sit in a cabinet or on the floor of a closet for easy access, while a wall safe is built directly into a wall in your home.
There are pros and cons to both types as a box offers less space and perhaps less discretion, but also less cost. A wall safe can be very sleek and can easily be concealed in a closet or office space; however, you will have to build either into an existing wall, or plan for including the safe into a new build.
What Do I Need to Protect?
Deciding what you are going to secure can be helpful for determining which type of safe will best meet your needs. Here are some categories of common items to consider:
Items of Monetary Value: 
Money
Jewelry
Precious metal or silverware
Fine china or crystal
Watches
 Items of Sentimental Value: 
Awards
Photographs
Home videos
Collectibles
Personal letters
Genealogical records
Important Documents: 
Financial records
Insurance documents
Wills
Passports
Birth certificates
Stocks
Deeds
Tax records
Bonds
Fire Arms: 
Pistols
Guns
Rifles
Ammunitions and accessories
Video Equipment: 
CD's and DVD's
Cameras and lenses
Software
Hard drives and back-up disks
Video tapes and equipment
Laptops
Now that you have a checklist of items to think about, you can decide what you'll be storing immediately and what you needs might be in the future. This can help you determine the size you'll need to accommodate your valuable items now and to grow with in the future.
If you have questions about which model might best meet your needs, you can contact DigitalSafe at 800-566-3122 or through our website online. We have several models to choose from!
Did you know?  DigitalSafe also installs alarm systems to protect your home even more.
Contact DigitalSafe Alarms to Learn More:
DigitalSafe Alarms
720-941-6543
digitalsafealarms.com