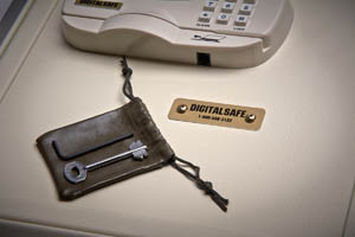 Unprotected from alarms or quick help from 911, the only thing keeping your dream home's valuables safe might just be… a safe. DigitalSafe makes home safes with as much attention to aesthetic appeal as security. Their new line of wall safes features velvet-lined Mahoney trays and LED lights for the full James Bond effect. The safe comes with a built-in burglary detector that locks down the safe if the safe is tampered with in case thieves are able to overcome the anchors and make off with your goods. Available in sizes ranging from "secure wall safe" to "in closet cube safes."
Before British brothers Charles and Jeremiah Chubb began selling burglary-resistant safes in the early 1800s, people who wanted to secure their valuables had limited choices: the bank, a hole in the ground, or the mattress.
Today, it's possible to purchase a safe that can foil burglars as effectively as a bank safety deposit box, and as the pictured specimens on this page demonstrate, these safes come in sizes that in no way resemble the microwave-sized steel block common to hotel rooms.
The world of high-end safe fabricators is an extremely small one. One of the top makers is DigitalSafe, based in Colorado. DigitalSafe's custom-finished safes conform to the safe's traditionally sleek and muscular expectations, while DigitalSafe takes a crafts manlike approach, creating unique safes with the aesthetics of fine furniture.
Custom safes like these don't come cheap, but those who have expensive items will spare no expense to protect them. Otherwise, there's always the mattress.
DigitalSafe products combine security, creativity and craftsmanship to form exclusive safes for you as a discerning collector of high-quality jewelry and timepieces. At DigitalSafe, we are well aware of the personal value of such collections. And we do our utmost to preserve them by constructing safes which provide you with absolute security while satisfying the highest demands in terms of features, design and ease of use. This is because a safe should be far more than a mere secure cupboard, standing in the cellar or concealed behind a picture. We aim to produce a safe according to your needs, so that you can place it wherever you desire – in your bedroom, in your cloakroom, dressing room, study or living room. Regardless of where you would like to keep your valuables, we want you to have the freedom of unlimited enjoyment of whatever is valuable to you.
Protecting your valuables is a crucial part of owning them, but it is more than a little bit ironic that most jewelry connoisseurs store even the shiniest of assets in dull, dark safes. Those lackluster hiding spots are precisely what prompted Streeter McClure to start fabricating safes—a decade-old safe company whose safes are as lustrous and eye-catching as the items they often protect. "The difference is like a very exclusive, expensive Swiss Rolex watch and a $30 novelty watch," explains McClure, who created the company. "At the end of the day, they both give you the time and date, but only one has style and design and makes you feel good."
Crafted in Colorado, DigitalSafe safes are first and foremost secure—the safes have never once been broken into. Manufactured to rigorous safety regulations. Each safe features interior hinge system, bolting mechanisms and a James Bond–like electronic lock. And to limit the number of people with access to its safes, DigitalSafe uses its own trained professionals for every aspect of the design and installation process.
The company offers 8 standard sizes (priced from $1000 to $2,000), ranging from the 15-inch-tall Silver Wall Safe to the 30-inch-tall Diamond Wall Safe, all of which can be customized with options such as mahogany jewelry trays, almond or black color and limitless interior configurations options that include drop file compartments and hand gun holsters. As every safe is a bespoke creation, the structures become canvases for true works of art.
The Life of Luxury ~